There is going to be a lot said on this anime series in the next few weeks. Youtubers, Bloggers, and Reddit will have much to say on the quality, characters and story of this show. I myself have much I want to say on what I believe the long-term legacy of a show like this will, or won't have on the anime fandom. Right now however are my quick thoughts on what is the hit anime of the season, and my tie for Anime of the year: Rascal Does not Dream of Bunny Girl Senpai.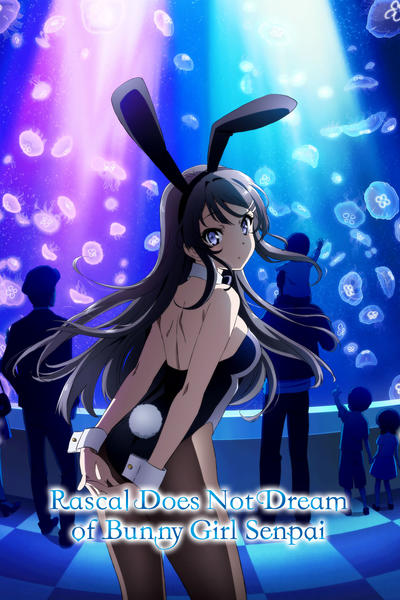 So the big question. Did Bunny Girl Senpai manage to stick the landing?
Yes and no.
The final episode was good, great in many cases. Mostly because the characters we've followed all season are well developed and extremely endearing. The resolution of Kaede's story is bittersweet and most of all realistic, holding true to the overall main thesis of Bunny Girl Senpai. It's anime that has discussed realistic problems that real, realistic teenagers go through. While it was done with elements of science and science fiction, with some landing better than others. Senpai's ability to be an anime about High School, but not an anime about an ANIME high school was its greatest strength. That carried through all the way from start to finish.
However, I can't deny, minutes after watching it, that the final episode felt like they jammed two different story arcs together. Kaede' story is wrapped up in the first half, and then the last is dedicated to Mai and Sakuta working out a minor relationship issue. All of it is good, touching and works well, as expected from this show. Yet it feels very much like they weren't able to cobble together enough money (or plot) for an additional episode and just dumped it all into one. If they had been able to space out these two stories, then this would have ended perfectly. There is also the issue of Shoko and the foreshadowing of her role in the story, though thankfully there is a film coming that will carry things on.   Overall it's a bit of a bummer considering how well this final arc was shaping up to be.
Rascal Does not Dream of Bunny Girl Senpai is a truly wonderful and beautiful piece of work. I'll be getting into whether or not it will have a long lasting legacy in a week or two (once my thoughts are finally solidified), but it shares the top spot for my anime of the year easily. Many fellow anime fans have fallen in and out of love with this show over the 13 weeks, but it has been a wonderfully calm, almost melancholic 13 weeks. This is a very, VERY well done piece of anime, and if you haven't checked it out yet, changed that at once.