I must stress that this is not my review or shallow dive into this movie. While I have seen a version of this film, I have not seen it in the way that I feel I need to do give it a full and fair look. However as I am a die-hard Fate Fan and the internet so warmly provided me a chance to see this movie, I feel I want to get my thoughts out now while the iron is still hot.
I look forward to watching this movie again two more times (one for sub, one for dub) and you can't expect my fuller more complete thoughts later this year. For now though, my quick thoughts on the Fate Stay Night: Heaven's Feel II. Lost Butterfly are after the poster.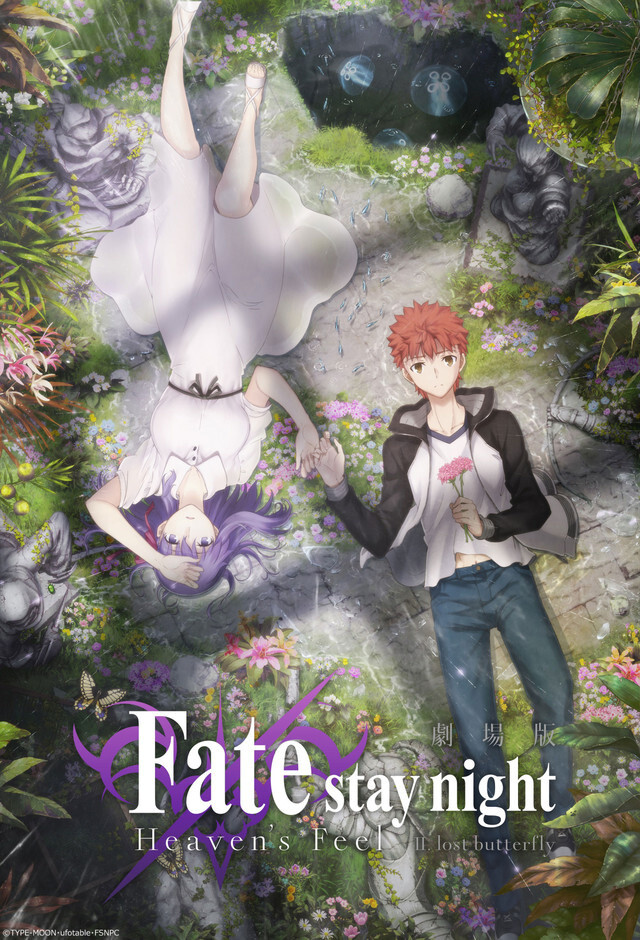 As I stated in my review of the first installment: Presage Flower, I felt that the film was 90% set up for what was going to come next and that I hoped part two would get the ball rolling. I can happily say that Lost Butterfly does not only get the ball rolling, but it also attaches a rocket to it and doesn't let go.
Lost Butterfly and all of Heaven's Feel are movies for Fate fans who are one or two series deep into the franchise and therefore doesn't waste any time explaining anything about the world. Since this is part two of the story, we jump right back into the story keep things at a brisk, but well-paced speed. Again, that can be difficult for new fans, but it is clear this movie is made for the people who have at least seen Blade Works or Fate/Zero.
In terms of the plot, Sakura's route is just as dark and foreboding as I hoped it would be, with more than enough differences to separate it from both Fate and Blade Works, which often felt like they were chasing similar overall story beats. Heaven's Feel, however, is wholly its own story that takes the Fate world and turns it on its head. While all the characters are present, we get to see the magic of the three route structure on full display as different cast members weave in and out of importance as the story unfolds. This is especially true for Gilgamesh and Archer who are so central to the last two routes but play much smaller roles here. The only real constant is Rin Tohsaka who, while very much a supporting character this time, is still tied up greatly with the events of the plot.
Finally, Lost Butterfly is, at last, the Fate route that managed to find the perfect compromise between the original visual novel, and the Realta Nua re-rerelease. I'll just go ahead and spoil this, but this is the first Fate adaptation that actually kept in a sex scene, but re-tools it to make it fit more into the story and not feel like it's completely superfluous to it. It's there, it works extremely well, and it's done tastefully and respectfully.
I'll have a lot more to say about this movie when I get a few more views in later in the year. All I can say now is that Ufotable has done it again. They've created another beautifully animated, well acted and excellent adaptation of Fate Stay Night. While Lost Butterfly is lighter on the action, the action that is present might even give Dragon Ball Super Broly a run for its money. The characters are excellent, and Shirou and Sakura's relationship was way more endearing than I hoped, with a cliffhanger ending that just gets you pumped for the final installment.