Buckle up, I'm going to talk briefly about the portrayal of women in media. Opinions right up ahead.
Anime and Manga have many, many good qualities and despite being part of the fandom for over two decades now I still find myself surprised and shocked by the twists and turns it can give me. While there are more than a fair share of tropes, cliches and similar stories (hello Isekais) I've always found that anime more often than not can surprise me with some of its stories, character beats and so on.
One of these is anime's portrayal and presentation of women and female characters in its media. To make a long story short, I've found that female characters in anime and manga are given far more freedom in comparison with their western counterparts. Female anime characters can be funny, cruel, kind, slutty, pure, smart, dumb, warriors, fighters, healers, independent, dependent, competitive, ambitious cliche, original, you name it and anime has probably done it. Most importantly though, they do it with no fanfare, no grand statements, no cynical pandering. They are just allowed to be characters, themselves. Women in anime frankly have nothing to prove
In comparison to the era western entertainment is in now, where everything (fair or not) seems like it has to fight for the cause of representation, it can often feel that characters, females, in particular, are there more to tick boxes and pander to audiences and a twitter feed instead of allowing themselves to be just characters in a story. That is not to dismiss the cause of representation, nor to throw shade on people and creators who take it seriously,  but it has been something I noticed throughout the last few years.
I say all of this because it is a feeling I picked up a lot when I was watching the show we are shallow diving into today. After the cut let's take a dive into the anime series: My Girlfriend is Shobitch.
I've watched several (SEVERAL) harems and ecchi shows in the last year or so, but never did I expect to see something I would call a "reverse" Ecchi. While "reverse Harems" where there are one girl and several boys fighting for her affection are more common. (Ouran High School Host Club is the go-to example). I never thought that a "reverse ecchi" could exist, and while Shobitch might not be that exactly, I do think it is the closest I have seen yet.
Shobitch's plot involves our main lead Akiho Kosaka being confessed to by fellow classmate Haruka Shinozaki. Accepting the confession and becoming his girlfriend, Haruka soon realizing that it's not his young libido he needs to worry about, it's Akiho. What follows next is twelve episodes of Akiho obsessing over everything to do with their relationship and bluntly trying to approach sex and sexual activity in one over the top and innuendo-laced comedy bit after the next.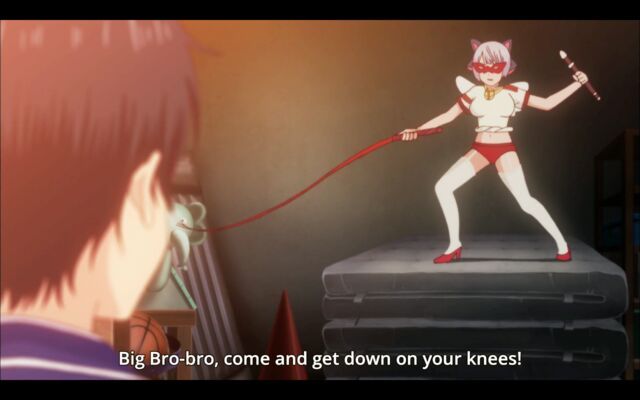 Now while I and many others have seen this plot before (My First Girlfriend is a Gal is the quite literally the male version of this) I have yet to really see it portrayed from the female point of view. Normally when it comes to ecchi it is the male character who serves as the PoV for the audience, which (fairly or not) has been viewed as the norm for entertainment like this. So to see Shobitch switch things up and give us the female point of view, seeing Akiho struggle and work hard to be a "good girlfriend" while coping with her own massive lack of sexual experience and genuine affection for Haruka (which is thankfully mutual) is a nice breath of fresh air. Even more so that is Haruka, the male, who is portrayed as the patient and hesitant voice of reason in the relationship.
What makes this work though, is that Shobitch wisely lets its characters be themselves. There is no higher motive, no trying to get "a message" across. Neither Akiho or any other female characters are anything more than that, just characters. They aren't trying to advance the cause of anything, or try to be a role model to the viewer. They are just people in a story and don't need to try and justify their own existence every few minutes. While Shobitch is absolutely not realistic, its portrayal of relationship insecurity and the pressures that come with it are very real ideas, and seeing it from a women's viewpoint, with none of the cultural baggage made what could have been an average ecchi romp into something just a little bit more.
My Girlfriend is Shobitch is not going to be the best ecchi ever made, and honestly, it ranks in my "C" tier in terms of presentation, voice acting and the like. However, its willingness to let the female cast just be themselves made the show stand out to me. While shows like Shimoneta and B Gata H Kei may do it better, Shobitch is still an example I'll point to. Its good decent comedy, a great main character and the voice acting both English and Japanese is nothing to sneer at either. Give it a look if you are so inclined and maybe you'll agree with me!