Hey guys.
A few days ago I dropped a little preview of what I'll be doing for my one year anniversary of Shallow Dives in Anime, which is coming this September 9th. However I also thought I would take some time to make a post explaining my reasons for doing it, especially since I've been vocal that I would NOT be going back to revisit this series, that I didn't WANT to go back to this series, yet here we are.
To celebrate my one year anniversary of anime blogging. I will be revisiting and re-reviewing the very first anime series I ever blogged about: The Testament of Sister New Devil, or Shinmai Maou no Testament.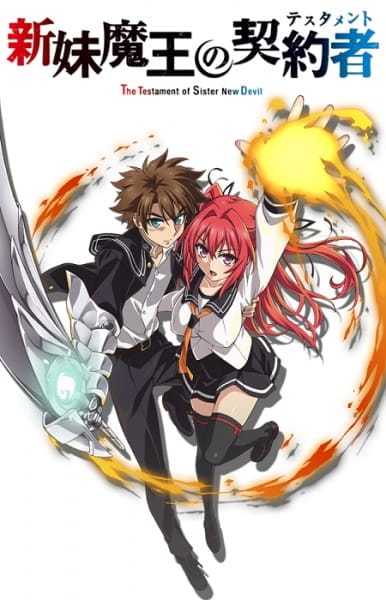 But why you may be asking?
Why are you coming back to a series you've gone on, and on, and on, and ON about being so bad, so FUCKING infuriating. Why are you going back to a series that you just frankly do not like? Well let's get a little deep shall we?
I believe in second chances, I believe that sometimes we as viewers often put too much baggage on the shows we watch, expecting them to pander to our personal views and tastes, and get upset and angry when they don't. One of my guiding principles in life is that sometimes we need to accept things for what they are, not what we want them to be. I made those thoughts clear on my very first post on Shinmai Maou when I started this blog, and I still stand by those thoughts.
However that was over a year ago, and during this time I think I have grown as both a blogger, consumer of media and as a writer. Since that time I've watched dozens of different shows, harem, ecchi and not and see various attempts at creating pieces of entertaining anime. Some have been successful, and others have not, and there have been a few clunkers that have come out and made me go "hmm..was I too hard on Shinmai? Was I just pissed off cause it wasn't like High School DxD?"
I do not think it is fair, either to myself, my readers (all like ten of you,) and honestly, to Shinmai Maou no Testament itself, to seal myself in that single opinion I wrote a year ago. I want to go back to the series with fresher eyes, more experienced eyes and with a cooler head than how I felt even just a few months ago. Just like with In Another World with my Smartphone, I do believe this series deserves a second, more experienced look.
So on September 9th 2019, I will present to you my full review of all 12 episodes of the first season of Shinmai Maou no Testament. I will discuss what works, what doesn't work, and I will re-examine my complex relationship with this series. I will also be returning back to the second post I did where I discussed, what I thought, was the series single best moment. Will the series still be a flaming pile of shit? Quite possible? Could I possibly have misjudge it and find out I actually like the series (not just the fanservice?) Also possible. Either way, while I am NOT looking forward to watching this series again, I am looking forward to finally putting this to rest, one year later.