The Summer of Love comes to an end today with a final post. It has been a fun ride, so let's not waste anytime and get into my final thoughts on the series High School DxD, after the cut.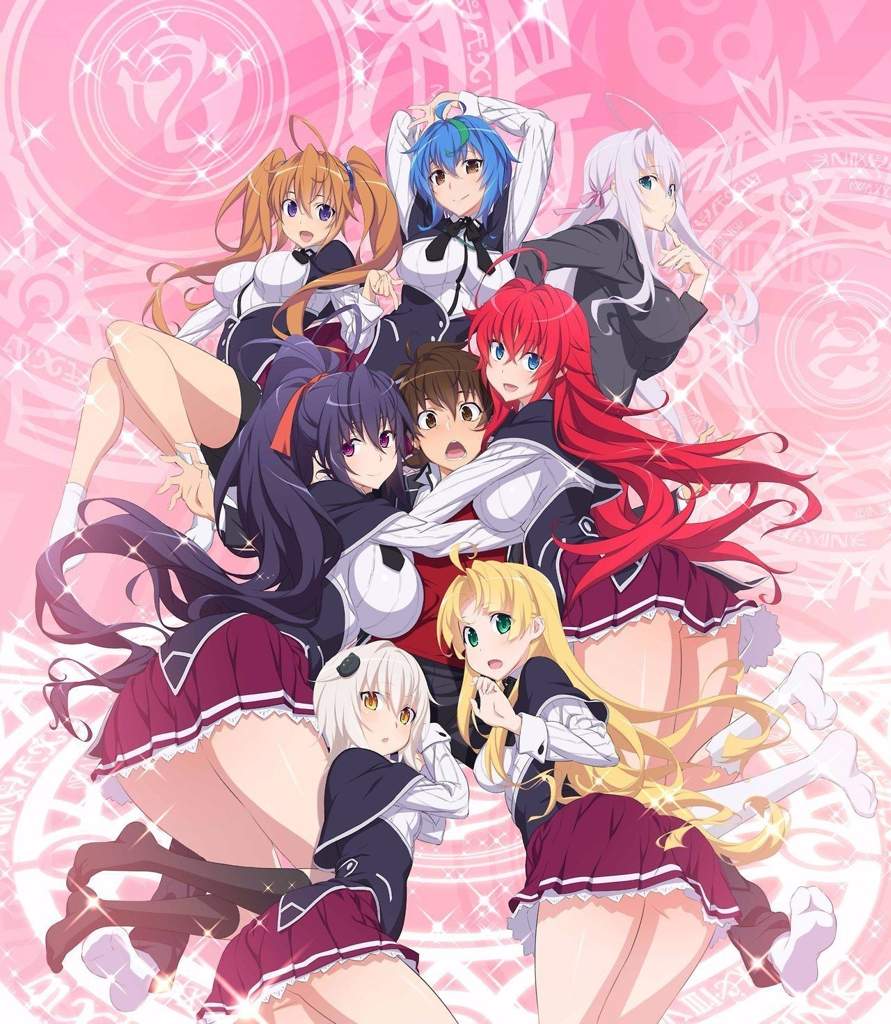 Throughout the entire summer, The Summer of Love has examined all four seasons of High School DxD with the simple task of asking one question.
Is High School DxD worthy of being considered the "great work" of the Ecchi/Harem genres? Well, after all of the posts, re-watching and examinations, the character dives and the introspection. I can honestly say: yes it is.
High School DxD is the 'great work' of the Ecchi/Harem genre.
There are many good harem and ecchi anime, and there are some really great harem and ecchi anime. But there is only one series that is truly on top, and that is High School DxD. A show that is brave enough to try and be something different, but also puts in the effort and time to actually make it work. It is a show that lays groundwork for plot points and character beats seasons in advance and then makes sure to pay them off. It is a show that takes time to build the world and universe around it, to make the logic and science of the world work. It is a show that never tries to be something it isn't, but also a show that tries to push what a harem and ecchi anime can be.
It is a a show with a male character who is one of the best developed and likable in his entire genre. Who goes on a journey of self reflection and discovery that is becoming increasingly rare in anime, all because a girl was kind enough to give him a chance. It is a show where, in an era where female characters in the west are expected to be portrayed certain way, is perfectly happy with having their girls just be girls, with wants, needs, fears, desires and quirks. Girls who are allowed to be freaks, to fall in love, to have sexual desires, and to dream both big and small. They can lead a family, and give comfort and purpose to outcasts and the forgotten.
It is a show that maintains an almost near consistent level of storytelling throughout all four seasons. It is a show that has moments of wonderful animation, spread between two established and well equipped studios. It is a show that has excellent opening themes and one of the best ending themes in all of anime history. It is a show with a superb Japanese voice cast and one of the strongest, funniest and loosest English dubs around. And most of all, it is a show packed to the brim with big beautiful bouncing breasts.
Yet High School DxD is not perfect, and I have striven to be as fair as I can in pointing out the flaws. It has a problem with its villains, some characters are more developed than others, there might be too many girls in the harem, and the less said about the back half of season 3, the better. Yet these flaws and shortcomings do not cripple the series, and only serve to highlight the many strengths and triumphs a show like this has. Almost every 'great work' of the anime art-form has issues, and High School DxD is no different, but it never lets itself be defined by those failings and works to surpass them every time.
Harem and Ecchi anime have long struggled to get the same respect that other anime genres have. It is a genre that many have turned their noses up at, or dismissed as mere "male power fantasy titillation." In some ways they are not wrong, but I, like others have, have tried my best to show people that the Harem and Ecchi genres are just as capable to tell captivating and touching stories like any other part of the art form. It has fanservice, oodles upon oodles of it, but that doesn't' mean it is any lesser form of storytelling. It won't be for everyone, and that's fine, but High School DxD is and will probably for a long time remain, the genre's best example of everything I have talked about. It is the crown jewel, the gold standard in which all harem and ecchi shows will be fairly (or unfairly) judged by. The great work that stands proudly beside titans like Dragon Ball, Cowboy Bebop, Cardcaptor Sakura, Fate/Stay Night,  Neon Genesis Evangelion, and Mobile Suit Gundam 0079. Author Ichiei Ishibumi and Studios TNK and Passione have created something extremely special that will be rem embed for decades to come. It is just really that fucking good.
The Summer of Love has been a wonderful project, a great step back into a series that has only gotten better over time, and my personal love letter and tribute to a genre that means so much to so many people. I hope that these posts will be of some use to anyone who is ever curious about the series High School DxD, and that if you have ever been curious about the show, or want to give it a second chance, that The Summer of Love has convinced you to do so. I think there is only one final thing to be done.
Play us out, Study X Study.