While I am not as versed in manga compared to anime, I have heard that the artist Pochi has been on a tear recently, having created the designs and illustrations of the light novel: Do You Love your Mom and Her Two-Hit Multi-Target Attacks? along with a respectful presence in the hentai genre. Regardless if that is your thing, Pochi's art-style has already earned her numerous fans and attention from all corners of the community.
Today I want to talk a look into her current manga series, one that has a considerable level of popularity. So join me after the cut as we take a look at Ane Naru Mono, or The Elder-Sister Like One.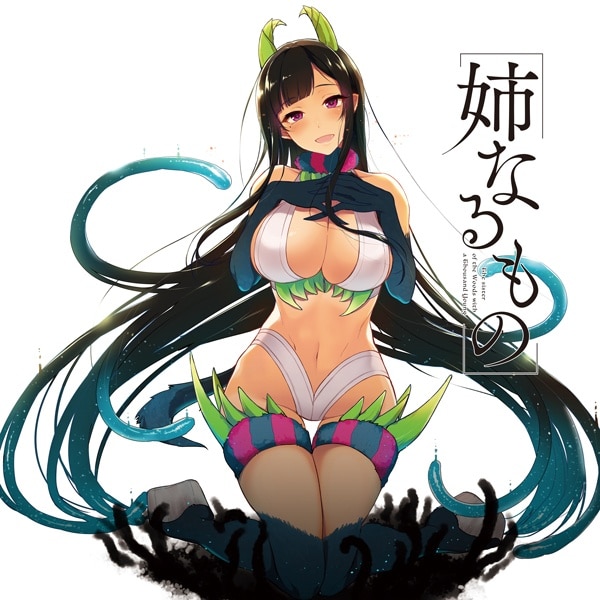 ((I want to take a moment to give a shout out to the youtuber Sydsnap whose review of this series compelled me to check it out. Her videos have given me oodles of laughter each time I've watched them. Make sure to give her channel a look, she's a great voice in the ecchi and anime fandom in general.))
Ane Naru is another entry in a growing genre that I've starting calling "soothing slice of life" where the story is more focused on the characters just going about their normal day to day, with the atmosphere, art and setting doing much of the legwork. Miss Kobayashi's Dragon Maid, The Helpful Fox Senko-San, Miss Caretaker of Sunohara-sou and even Today's Menu for the Emiya Family have all been series where viewers get to tune in, tune out and just ride along the clouds of good feelings. Ane Naru is very much in the same vein, but with an added ingredient. It's also an ecchi.
The story, like all of these is quite simple. The lonely and neglected orphan Yuu finds himself offered one wish by a demon. Instead of power and wealth though, the kind-hearted Yuu asks for something else: He wants a big sister. The demon, now calling herself Chiyo obliges and the rest of the (currently still running) 34 chapters is about Yuu and Chiyo living a quiet and happy life as brother and sister, complete with comedy, heart warming moments and more than a little bit of ecchi fanservice coupled with a plot that is foreshadowing much more than it lets on.
Now putting aside from the ecchi fanservice for a moment, which are very much present in this story. What really pulled me into this series was the amazing art-style. While it won't be for everyone, I was absolutely captivated by the details put into the settings and backgrounds which, coupled with the story itself, give off a very calm and almost melancholic vibe. I actually like I was in the Japanese countryside, those dog days of summer or young days of autumn. Even if the series didn't have a hint of ecchi in sight, there is still so much to love about the atmosphere and mood that Pochi is instantly able to set (and switch) whenever she is able to. The relationship between Yuu and Chiyo is told as much through the art as it is through the dialogue, and that really is the surprising strength of the manga which only serves to enhance the story.
Of course though, Ane Naru is an ecchi, and Pochi does not slack off in that department at all. If you have been watching Okaasan-Online and have been disappointed at the lack of full on fanservice, than worry now, because Ane Naru has it in spades with all the gags and moments you've come to expect. Again praise has to been given to Pochi who is a master at character design and struck absolute gold with Chiyo. Everything about her character design is spot on, from the face, hair, breasts, hips and thighs. Nothing is out of place or proportioned in a way that one part is overtaking the others. There is a reason that Chiyo already has multiple figurines and oodles of merchandise, her design and loving, but dorky big sister mannerisms have hit that perfect note that I don't think we've seen since ReZero's Rem.
With only 34 chapters and about three volumes under its belt. Ane Naru Mono is a series that is just getting started, but it already has made a considerable presence for itself. It is very likely this is going to get an OVA or anime adaption in the near future, and I wouldn't be surprised if it's as early as late 2020. It's hard not to see why, Ane Naru Mono is a wonderful series full of fun ecchi romps, and a surprisingly warm and loving story that benefits from breathtaking art that just pulls you into its atmosphere. Like Parallel Paradise before it, I came across this manga simply by chance, but I am glad I did because I am absolutely going to keep reading. This is a series that is just starting to find its footing and one I have no doubt will in the spotlight of many people in the next few years. Don't wait for the anime adaption, load up some soothing music, find a comfy chair and enjoy. I'm sure you won't regret.
And hey, if you read this series and start thinking, "fuck I wish there was some hentai of this shit", then worry not! Pochi created a full on hentai of this. I'm serious. This series is actually adapted FROM that initial hentai manga that Pochi wrote first! So have fun!