Hey guys.
The year is almost over and it's been a fun time here at Shallow Dives in Anime. I just wanted to take a moment to go over what's gonna be happening on the blog in the next few months, and some stuff you might look forward to, and also look back at what we've done. Join me after the cut as I lay all that out for ya.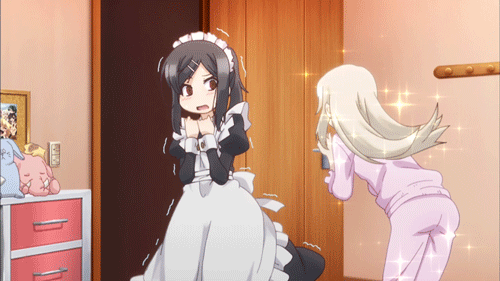 The Autumn of Black Cat
Last week I finished up my season long look at Black Cat called The Autumn of Black Cat. It was a fun time going back to a series that I loved as a kid, though I will admit that it was a more of a difficult write up than The Summer of Love was previously. I am surprised I was able to keep to my schedule considering how insane work got, but that just goes to show that I am able to handle these events. I do have one more planned this year (The Summer of Love II), but I absolutely want to do more, which brings me too.
YU-NO: A Girl who Chants Love at the Bound of this World
While it hasn't been an event per say, my look into the visual novel remake of YU-NO, has pretty much become one. I've had an absolute blast looking at this series, and it is going to be really hard to walk away from it. I have so much I still want to say, which is why there will be three final posts on the series: one for the YU-NO half of the final route, one for the 'true endings' of Ayumi, Kanna and Mio, and one final write up on the series. I hope you have enjoyed these looks, because it's been so much fun writing them.
Future Shallow Dives and Re-Dives
Like I said in my last housekeeping post, I have a few series I want to go back and examine once more, along with some other series. This was put on the back-burner because of my seasonal looks, and my event posts, but rest assured that these are coming. These are the following series you can look forward to seeing here.
Shomin Sample
Miss Kobayashi's Dragon Maid
Monster Musume
Sense of Values and Wine
Heaven's Feel II: Lost Butterfly
Berserk: The Golden Age Arc
Zombieland Saga
Yamada and the Seven Witches
Yosuga no Sora: In Solitude Where We Are Least Alone
These will all hopefully happen in 2020, I won't make assurances, but I want to get at least two done a month, which should be feasible, since I reckon the first two seasons of anime will only have a handful of shows I'll watch. And yes…I am going to a full on review of Yosuga no Sora, it's happening..Which brings me too.
Hentai Posts
I've really enjoyed doing these, mostly because they are tongue in cheek, and also because no one really seems to be talking about hentai. I probably won't do full on reviews of many series, but there are a few I wanna talk about and give them a fair shallow dive to. Sense of Values and Wine being the most notable, but I think there some others that reckon a good look.
The Anime Tiddy and Think-pieces.
I'll be honest. Shallow Dives in Anime is not and never will be a think-piece blog. I'm not here to rant about the state of the industry, or rant about my hang-ups of the community and what other people blog about. I hate outrage culture, and I'd rather spend my time talking about what makes me and readers happy, then jumping on some bullshit outrage of the week. That being said, I wrote the post on The Anime Tiddy, because I felt strongly about it, and thought that no one was giving the perspective I did. So when something crosses my desk that I feel strongly about, or that I feel isn't get a fair assessment, I might crack out a post or two.
Final Thoughts
I'm looking forward to 2020 and the anime and manga that are coming up. I'm sure there will be plenty in store. Will I finally watch Chivalry of a Failed Knight? Will there be more conversations with the good folks over at Ecchi Hunter? Will Date A Bullet be a good series? Will ReZero season 2 hopefully, HOPEFULLY not suck? I don't got any answers, but I look forward to talking about all of them.
As always thanks to Crow, Irina, Lynn, Karandi, Scott, Yomu and Matt and Pete for always liking or sharing my posts and welcoming my comments. I hope you've all been enjoying the blog as much as I enjoy working on it. Make sure to follow me on Twitter at @ShallowDivesAni if you aren't already.