Because the last two episodes of Azur Lane have been delayed until March (March!). I've decided that in lieu of a proper Shallow Dive on the series, I'm just going to give you my quick thoughts on the series so far. While I don't expect these to change much, if at all, once all is said and done. I do want to talk about the series, so join me after the pic as I give you my thoughts so far on Azur Lane.
When you watch Azur Lane, you most likely fall into one or two camps.
You either have played the mobile game, so the show is a fanservice-filled fest as you watching your favorite ship-waifus do cute and awesome ship-waifu feels.
Or you are just an anime fan and your watching a show that has a decent, but bare bones story, with animation that has varied from impressive to just plain bad.
Now I'm heavily in the first camp. I love the Azur Lane mobile game, fuck I am playing it right now as I type out this post. I have put down decent money on this game, collected so many ship-waifus, and fuck my banner on my twitter is from the fan-art that people got all pissy about. I love this game, and I have enjoyed the anime immensely. Mostly because I am going into the show not expecting some grand narrative, or even a decent story. I just want to see my cute waifu ship-girls doing cool things and looking sexy doing it. With that, Azur Lane delivers and despite the animation whiplash, I've always enjoyed every moment I've spent in the series.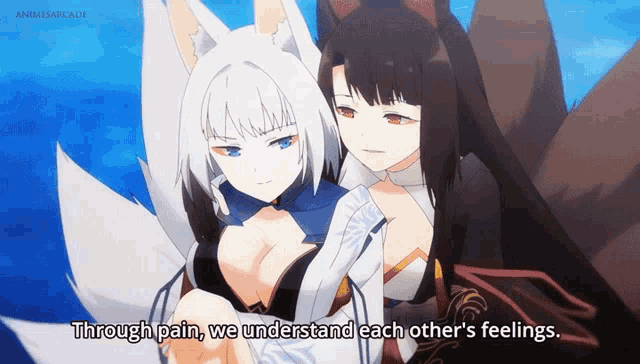 But if you aren't in that camp, then Azur Lane is just kinda 'eh'. It's got some cool ideas and is creative in adapting real life battleships into cute anime girl, but that is something that's been done before and sometimes done better. The characters are all just cardboard cut outs of the classic anime tropes, and the cast is just so damn big that none of the characters ever really get any depth.
Azur Lane is probably the purest example I've seen of a "commercial anime." It's here to sell people on the mobile game and that's it. However despite that it never feels like a truly 'bad' series and it looks cute enough to entertain you while doing it. If you play the mobile game, see this out for the enjoyment of going "I have that girl", but if your not playing, then you might want to avoid getting on this ship. But either way, the opening theme fucking ROCKS.