I have been an anime fan for over two decades, but in all of that time. I have never, ever seen a show as divisive as Sword Art Online.
A show that came out during my wilderness years away from anime. SAO was never something that I paid any attention to. I had no real strong feelings one way or other, mostly because I had had my moment with shows like Dragon Ball and Naruto. SAO seemed like it was meant for the next generation (much like My Hero Academia is now), and that was great.
However when I returned to the anime fandom full force in 2017, I soon got wind of Sword Art Online, and became aware of not just the fandom, but the anti fandom. Frankly I have always been astonished by the sheer amount of black hatred this show gets. It made me curious, but I always had other shows to watch, so SAO always became something that I would get to "eventually."
Now with the recent real life happenings, I've found myself with plenty of free time, so I am taking this chance to catch up that back log. This will be the first of several posts where I give my thoughts on every single arc of the series and, as an outsider looking in. See just what the fuck is up with the anime that is called. "The best show of all time" or "The worst thing ever made."
Join me after the cut as I dive into the first arc of the series Sword Art Online: The Aincrad Arc!
((Make sure to follow my twitter where I give daily updates on this show!))
14 episodes into Sword Art Online, my overall thoughts are pretty much: "That's it?"
THIS is what people hate? THIS is what people have spent so much time shitting on. THIS is what people have devoted 45 minute YouTube video essays cynically nitpicking about? Who have molded their entire online personality and identity around. THIS?
I am glad that I have decided to watch SAO later in my life, because being so removed from the initial hype and backlash has allowed me, at least I think, to view the series with an objective mind. I have no skin in this game, and even after watching this first arc, I still don't, and I am glad about that. Because viewed objectively, Sword Art Online's first arc is actually pretty good. It's solid, enjoyable and yeah..just good!
If you've been around the anime world this last decade, you know the plot of his story. Sword Art Online is a massive new virtual MMO that our hero Kirito eagerly jumps into play on launch day. However not all is well in virtual paradise as he and the rest of the players soon discover that they cannot log out. Furthermore things are complicated when they discover if you die in the game, you die for real. What follows in this first arc is Kirito and the others trying to free themselves for the game, the relationships that are forged and the love and loss they experience. I couldn't help when I watched to get massive .HACK vibes from the show, and I think that is intentional. Newer anime fans may not know this, but .HACK was a series that is probably the grandfather of every MMO anime ever made, and has seem to been almost forgotten in this modern era. I had a few brushes with it back in my youth, and while I found it to be slow and rather boring, I couldn't help but feel this first arc of SAO was following those footsteps. However unlike it's predecessor, SAO is notably more fast paced.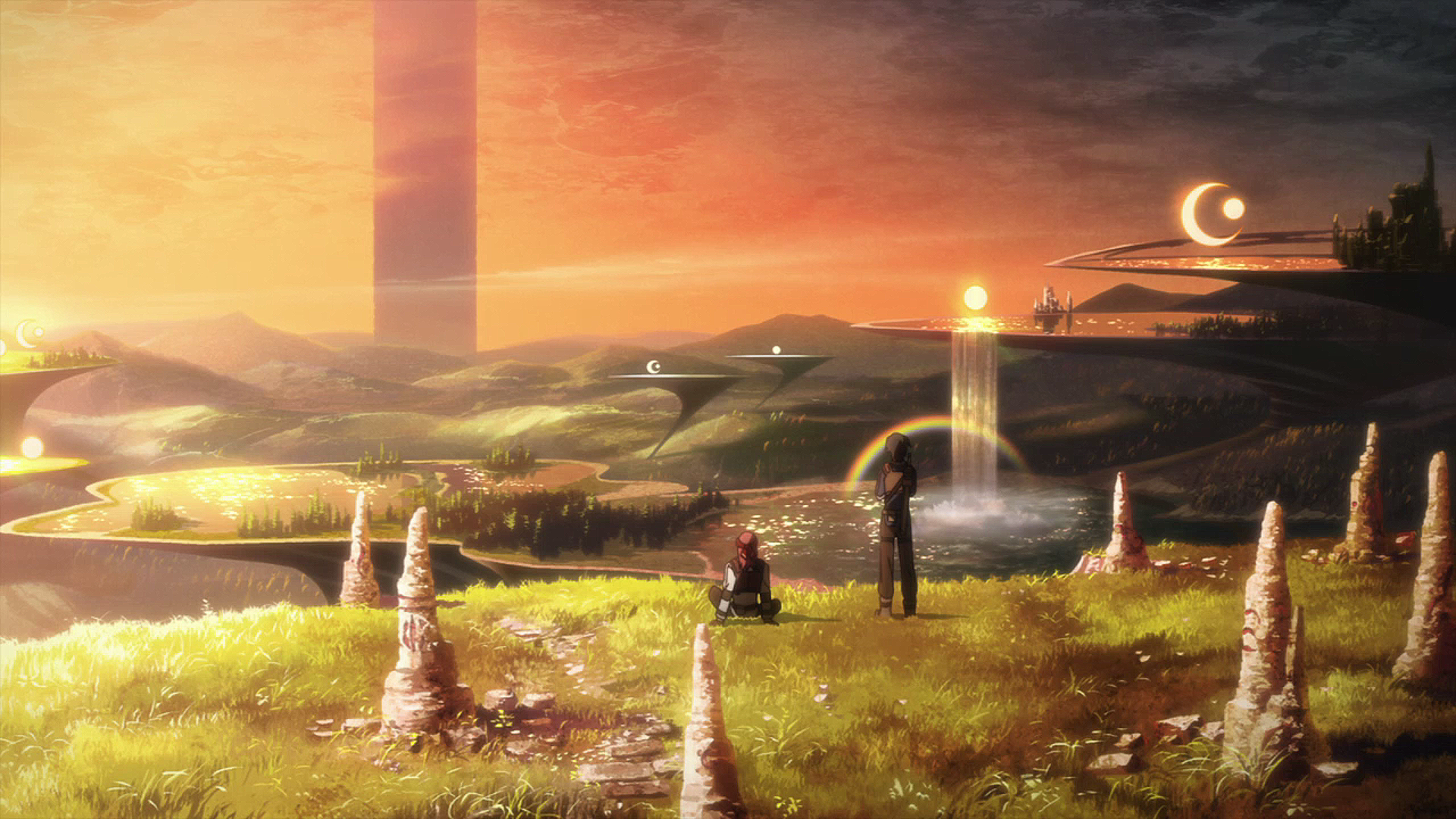 That I think is both a boon and bust for the series. Throughout my entire time, I never once felt bored or un-entertained, nor did I feel that the story was rushing through anything important. Yet at the same time, I couldn't help but wish SAO had spent more time on certain plot points, or had an episode or two to expand certain scenes. This is most notable with the Sachi episode, where Kirito joins his first guild and becomes close with a female player. As her and the guild subsequent fate propel him on his lone wolf mentality, I really wish that it had been given more time than a single episode. Yet even in that lone episode, I left feeling satisfied with what had happened.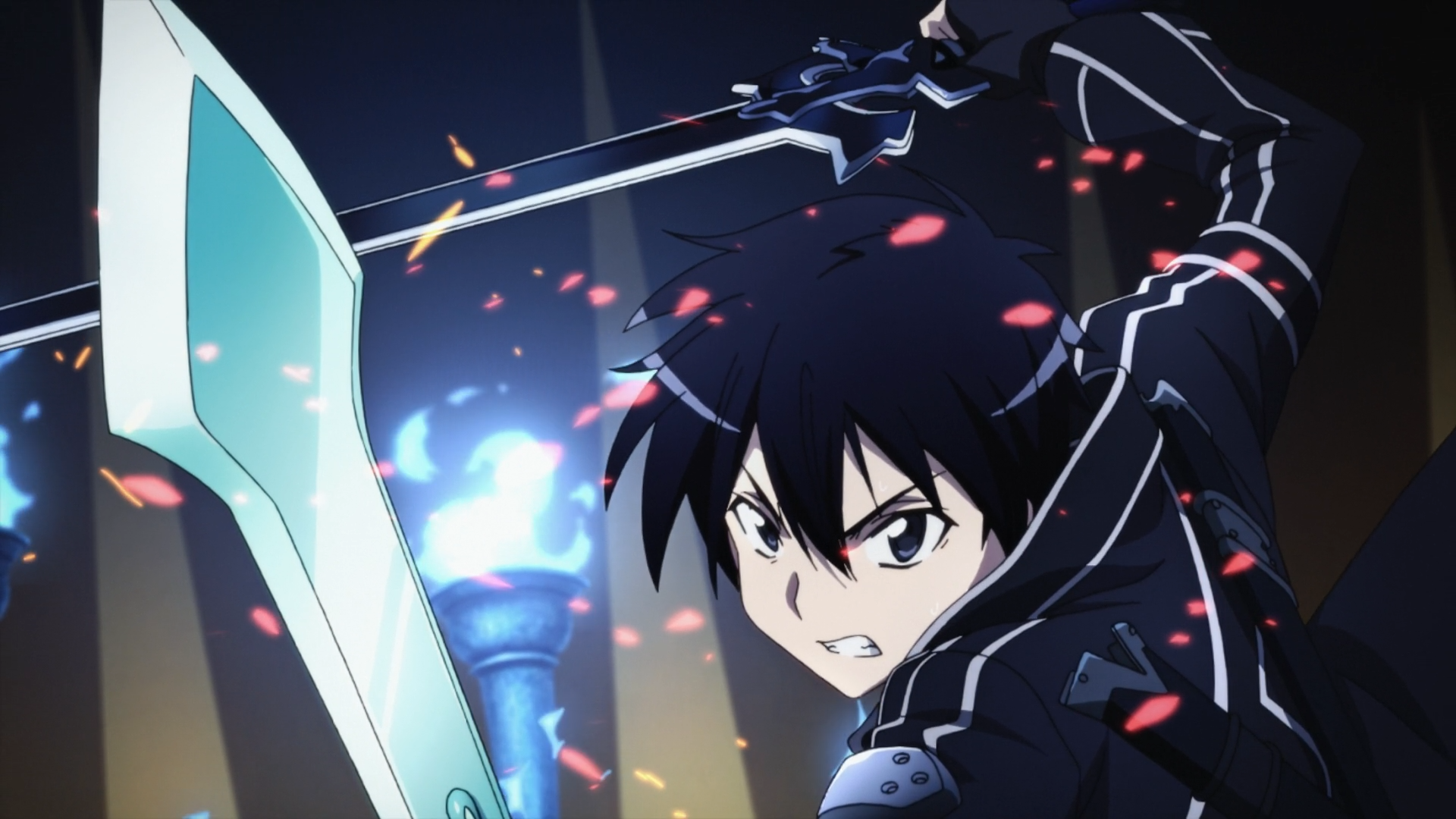 In terms of characters, there has been a lot (and i mean A LOT) said on the two main leads, Kirito and Asuna, and I'll leave it to better writers to give you the rundown. What I will say though that so far, I have yet to see this level of "gary-stu" that Kirito has been so criticized for. If anything, the male lead is a blank slate, still trying to discover who he is as a person and what he stands for. (So pretty much any teenager his age) Kirito has a lone wolf mentality, but it seems to stem from living in the world of games, and much of the Aincrad Arc is giving Kirito a new lease on life, which of course is done through Asuna. Out of all the characters, Asuna is probably the strongest of the bunch. While very much a lesser version of Fate's Rin Tohsaka (no complaints here), it is Asuna who really steals the show. Her relationship with Kirito and the bonds they share is when the Aincrad arc is at its absolute best. The one thing I do remember from my initial watch of this arc years ago (I stopped around episode 10ish?) was that I really loved that Kirito and Asuna avoided the bullshit "will they, won't they' nonsense and just got together.
Asuna is clearly a sheltered girl who views SAO as a place to be free, and her relationship with Kirito, developed through the first 2/3rds of the arc is well done. Much (and I mean MUCH) has been said about Asuna's character, especially her role as the female lead, but I think it works. Never once did I think Asuna was just "the love interest" and the choices she makes and the desires she has are wholly her own. I think it is important to remember that both these characters are young teenagers, trapped in a world they may not leave. A first love like theirs is a powerful thing, but it is believable. This relationship will absolutely get a character dive in the future, so look forward to that.
The rest of the cast however is a bit of a mixed bag. Klein and Agil are solid supporting characters, and it was great to see Klein, the newbie in the first episode grow to handle himself by the end. The female supporting cast however is very much take it or leave it. Sachi again serves the plot well, with some tug at your heartstrings moments. Silica, Yui and Lisbeth however feel very much like filler at some-points. (Well not Yui, but I'm waiting to the next arc.) The villain of the series Heathcliff also feels very under-cooked, and I really wish the reasons for what he trapped everyone in SAO, being directly responsible for the deaths of thousands had been actually explained. (Though I don't care enough to make a 45 minute video essay on it)
The Aincrad Arc of Sword Art Online was a fun, harmless and enjoyable experience, great when it wanted to be, and solid everywhere else. It's damn well animated, the story is brisk and well told, and never once did I feel like I was being given anything "bad." As of now, I am struggling both to see the black hatred that people spew at this show, as well as the "greatness" it was suppose to be. I honestly don't care either way, because I'm having fun with SAO. I'm even tempted to pick up Sword Art Online Progressive, the light novel series that expands on much of the story in this arc. And if my biggest complaint of the Aincrad Arc is that I want more of it? Well then i think Sword Art Online is doing something right.