This week will mark the 2nd anniversary of Shallow Dives in Anime! I can't believe that much time has passed, and frankly, I can't believe that I've managed to keep it up.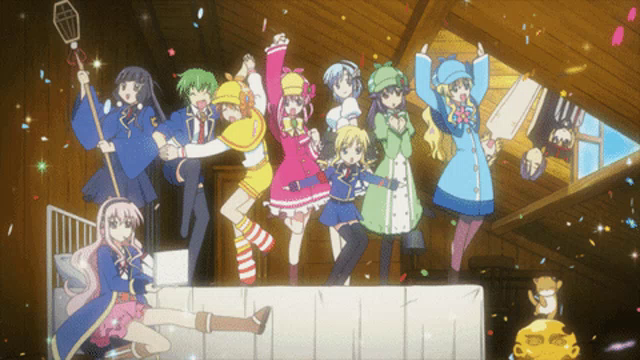 Shallow Dives was always something I created on a whim. After watching several harem shows, especially the now-infamous Shinmai Maou no Testament. I was searching for a way to get out my thoughts, to just unload my feelings and views regarding that series, and more. I have many friends who are anime fans, but at our age, it is harder for us to get together and talk, and there are few who like to get into the details like I do. So I thought it would be cool if I had an outlet where I could 'get it out of my system.' That led me to WordPress and the idea of creating my own blog.
I thought it be something I'd do for a few weeks and stop, but here we are, almost two years later and I feel like I'm just getting started.
There has been a lot of series I've covered here. We've ranted about Shinmai Maou, we've gushed about YU-NO: A Girl who Chants Love at the Bound of this World. I've explained my views regarding High School DxD and why I think it is a 'great work'. I've gone to bat for Sword Art Online, and I've discussed neglected and forgotten series like Black Cat. We've tackled difficult and taboo shows like Yosuga no Sora, and we've even shone a light on several hentai like Bible Black, Kakushi Dere, Swing out Sisters, and Another Lady Innocent. I've talked about a bevy of seasonal anime, from the heights of Kaguya-Sama: Love is War, to the depths of Master of Ragnarok and the Blessing of Einherjar. I've left nothing off the table, if it is anime, then I'm probably going to give it a fair and honest look.
Shallow Dives in Anime, from the moment I put fingers to keyboard, has never be a blog where I get deep into shows. I hate the anime-essay, and I do not think that you need 45 minutes or thousands of words to get into a series. I've always tried to be concise and to the point, to cut to the chase and then some. Sometimes it has worked, sometimes it hasn't. It's been a wild ride of video clips, anime booty, character dives, and spelling mistakes (SO many spelling mistakes!), but I've loved every moment of it, and I've loved that my work has entertained those people who have been so kind to grace me with their likes and their time.
There are so many people to thank: Crow, Irina, Lynn, Scott, Yomu, Pete, Jon Spencer, Mari,  iniksbane and infinitezenith for always being there for chat or comment.  Leth and everyone from the Sword Art Online fanbase who have shared, liked and re-tweeted my posts. If you have taken the time to look at one of my posts, leave a like, or even a comment. Know that you have always brought a smile to my face. and warmth to my heart.
I have every intention to keep on blogging, to keep shallow diving into anime as long as I feel like I can. You can expect a few posts this week to celebrate these two years, and you can look forward next week to sharing a road map of things that will be coming in the future, some soon, some far off. I hope you will join me in the journey, and have a good time doing it.
Most of all though…
Thank you for reading my blog!