A week or so ago, I was delightfully tagged to take part in a new blogging challenge! It's been a while since we've done one of these, and what better way to end the week with! Much thanks to Meg from A Geeky Gal for the nod!
The Rules:
Share your favorite stories—movies/books/anime/manga/drama/songs—by classifying them on these seven colors' traits (listed below).
Send this challenge invitation to at least one of your friends. Let them fear your superiority, as you—decide their fate.
Link back to the original post here! And, enjoy!
red: passionate, exciting, invigorating
blue: peaceful, calming
pink: romantic, caring
orange: warm, motivating
black: mysterious, thrilling
green: fresh, unexpected
white: random
Sounds quite interesting right? Let's get into my thoughts after the cut!
Also, I toss the buck to infinitezenith and Irina who I know will have a great time with this!
Red: High School DxD
High School DxD is the king of ecchi. The greatest series the genre has ever produced in terms of plot and character. You come for the boobs per minute, but stay for the well developed characters, solid writing, great comedy and thoughtful touching moments. It's not the most sexual of the ecchi series, but it does something many other series often forget to. Have plot along with PLOT.
Blue: Blessing from The Saint's Magic is Omnipotent
Saint's Magic is fresh off the presses, but already has made a place in my heart. The music, the tenderness is that perfect warm cup of milk you need. Everything about the series has hit it out of the park, and this song is a big reason why.
Pink: Sense of Values of Wine
My all time favorite hentai manga is more than just titties, booties and coochie. It's a heart warming story of romance between a lonely teacher, and her slacker, but noble student. Few hentai series have this kind of chemistry, but Sense absolutely brings it. It'll make you go 'aww' as much as 'ohhhhh'
Orange: Emiya from Fate/Stay Night
Is it the warmest? No, but fuck if this theme doesn't make me want to knuckle down and get to work! When in doubt, you can't go wrong with Emiya.
Black: Babylon
If you watch Babylon, you should stop after the series most jaw dropping moment, because everything up to that point is pretty much perfect. Ai Magase remains one of anime's most interesting villains, an enigma wrapped up in a mystery wrapped up in a riddle. It's a damn shame the series drove itself into a ditch, but man, those seven or so initial episode are something else.
Green: The Saga of Tanya the Evil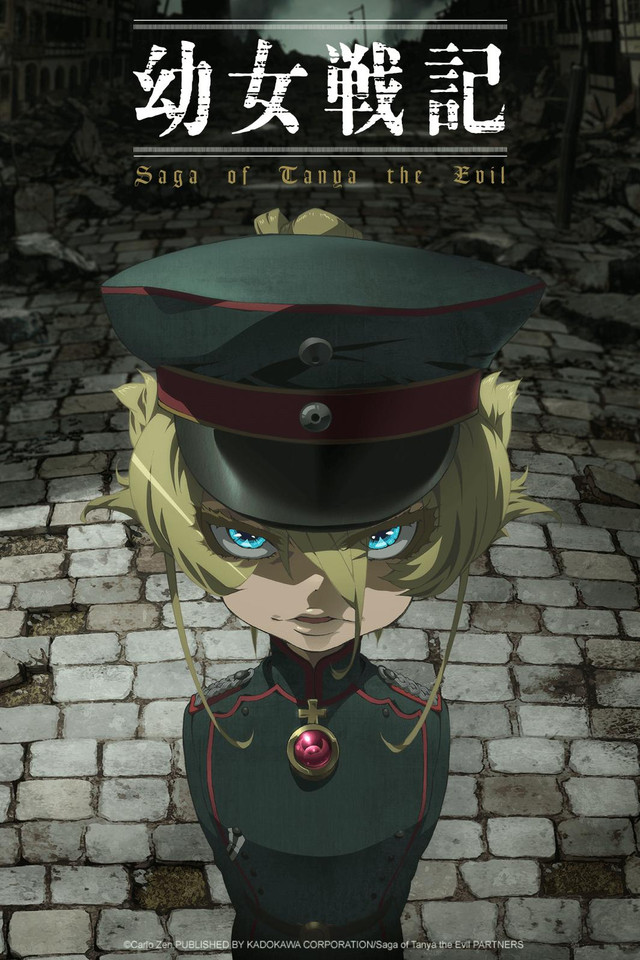 If you have isekai fatigue, then Tanya is the medicine for you. It takes the basic concept of the genre and turns it on its head with a fresh setting, fresh character, and a great game of cat and mouse. I've watched it twice, and I'm planning on a third outing soon, it's just that damn good. It's everything you need if you are sick of the sword and sorcery of the Isekai genre. Evil never looked so cute.
White: Higurashi: When they Cry
The classic anime horror. A show that is able to conduct the perfect paradigm shift in terms of its story and character. The animation is dated yes, the dub is fucking atrocious, but man of man, this is a show that earns every iota of its praise. If you like blood, guts, but also a compelling story with great characters, take a trip down to the village.