Summer 2021 has been the break I think we all needed. There is very little in the way of heavy-hitters, and honestly, that's great. Having to focus on amazing shows each season can get a little exhausting, so having a season about nothing important can be a great palette cleanser. Or in this case, just binging on trash. With that, we are mostly three episodes deep now, so it's time to give you my thoughts! As always, this list has changed a bit, (No Great Jahy until August!) but let's get into it after the cut!
 Miss Kobayashi's Dragon Maid S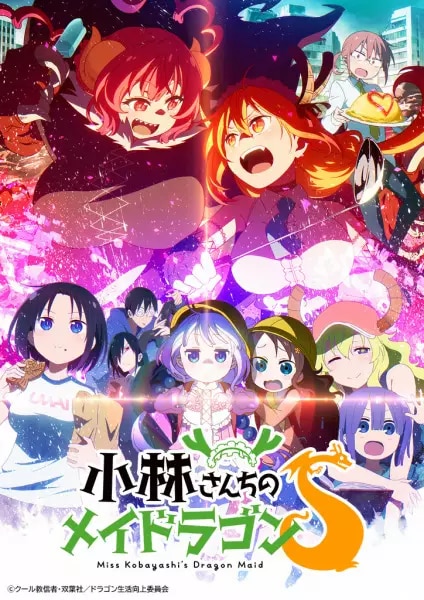 My thoughts after three episodes: As expected, the mumbles and grumbles about Ilulu's honkers have cropped up, but it hasn't stopped Dragon Maid from having one of the best premiers of a second season I've seen. Breathtaking animation, wonderful music and that funny papers type of humor that the show has been known for. It will be hard to objectively watch this series without the shadow of the arson attack hanging over it, but so far Dragon Maid S has been bringing everything and more to the table.
STATUS: Rubbing tummies during Monopoly
 Higurashi: When They Cry – SOTSU
My thoughts after three episodes: I've said before that Higurashi GOU took a bit to get going, but once it did, I was so fucking invested. SOTSU with being the answer arcs to those questions has been great so far. Going in with the knowledge of what's going on has been damn compelling. Higurashi has always be adept at telling a compelling story and then unraveling the mystery, and this has been much of the same. Also that fucking opening theme is stellar.
STATUS: Wait, that's in that syringe?
My Next Life as a Villainess: All Routes Lead to Doom! Season 2
My thoughts after three episodes: I was afraid that Hamefura wouldn't have much to do now that the story has concluded, but so far the second season has been enjoyable. Nothing important or special, but I still like these characters and Catarina's cluelessness is as endearing as ever. Will they be able to stretch that out for a full twelve episodes? We will see, but I reckon this series won't be a chore to get through every week. Let's hope for the best!
STATUS: Stuffing my face while forgetting I'm a hostage.
Girlfriend, Girlfriend
My thoughts after three episodes: Like with the next entry on this list, Girlfriend, Girlfriend has given me more of that classic harem humor that makes the genre so wonderful. A dumb as fuck male lead who manages to be heartwarming and loving. A plot where the fun comes from the absurdity of it all, and comedy that feels straight out of Love is War. I've been getting the same feelings for this show I had when I watched Hensuki a few years back. It's like the first drink of water after traveling through the desert.
STATUS: Checking my partner's phone.
Mother of Goddess Dormitory
My thoughts after two episodes: Man oh man, was the pilot episode to this series fucking great. Boobs everywhere, uncensored and full of that humor that when it works, makes this genre so fun. Goddess Dormitory's first episode was everything I wanted it to be, and the year's first real ecchi hit. The second episode didn't have much of that, so I hope that this isn't a show that blew it's load (heh) in the first episode. I'll be watching regardless, because hot damn is it good to have classic ecchi again.
STATUS: Ara-Ara Shota-kun