I've been examining the couples of Fate/Stay Night for a while now, and as we wrap up our look at all the current Fate properties (except those that came out last year). It is time to turn our attention to the final main couple of the first series. I would say we saved the best for last, but sadly that isn't going to be the case. Still that doesn't mean there isn't stuff to talk about. So after the cut let's take a character dive into the relationship of Shirou Emiya and Saber.
My thoughts on the relationship of Shirou Emiya and Rin Tohsaka are right here!
My thoughts on the relationship of Shirou Emiya and Sakura Matou are right here!
After watching everything Fate related and sitting on my thoughts for almost two years now. I've come to the conclusion that Fate/Stay Night is really a story about maturity. That past all the grail wars, fight scenes, and cooking scenes, it is a story about one man: Shirou Emiya leaving his childhood and childhood view of the world behind to embrace the realities of being an adult. This is shown through his relationships in all three routes, which follow a path of Shirou accepting the things he can do, instead of what he can do. In Blade Works, his relationship with Rin Tohsaka gives him a much needed reality check, and she provides a cynical and realistic view of his dreams that brings Shirou back down to earth. In Heaven's Feel we see Shirou abandon his dream completely in favor of saving Sakura, realizing that his ambitions to be a hero of justice pale in importance to becoming the pillar of support Sakura needs. By the time the credits roll, viewers see Shirou Emiya not as the hot-headed, rash and overly selfless boy with a hero complex, but instead he is a well adjusted and experienced young man. One who takes pride in what he CAN do, not what he WANTS to do.

But before those stories, we have this relationship with Saber. While present in all three routes, it is the titular Fate route that brings their relationship and later romance to the spotlight. I have made my thoughts on the route clear many times: that it remains the weakest of the three, and the same can be said for the relationship on display. Simply put, I just do not think that Shirou has the same chemistry or emotional connection with Saber as he has with RIn and Sakura. However I would also say that this is the point. It is the first pairing in the story, and if we agree with my idea of Fate/Stay Night being Shirou's journey to manhood, we see that it has its place. This is the childhood romance, the young love not bound by realistic expectations or real world consequences. That Shirou loves Saber for the idea she represents, and how it can reinforce his own view of the world.
At their core, Saber and Shirou are both incredibly selfless people. They want to do what is best for others, and often at the expense of themselves. They live for pleasing others, and feel they can do the most good if they always put others before themselves. Shirou constantly gets in Saber's way during the fighting, not because he is stronger, but because he doesn't want her, a fully trained knight, to get hurt fighting. Until the end of the story, Shirou hates the idea of Saber, a woman, having to fight and get hurt, and believes that he needs to protect her, despite being captured time and again. For Saber, she has sacrificed her normal beloved life as a woman to become a king, throwing away most of her humanity, sexuality and personality in order to become a 'rock' that her kingdom could depend on. Something that could be seen as admirable, but in the end only causes her kingdom to turn on her. It is these traits and others which cause Saber and Shirou to butt heads over the course of the arc. They cannot understand each other, but yet are so similar: two people who would lay over lava in order to be a bridge for someone else to cross.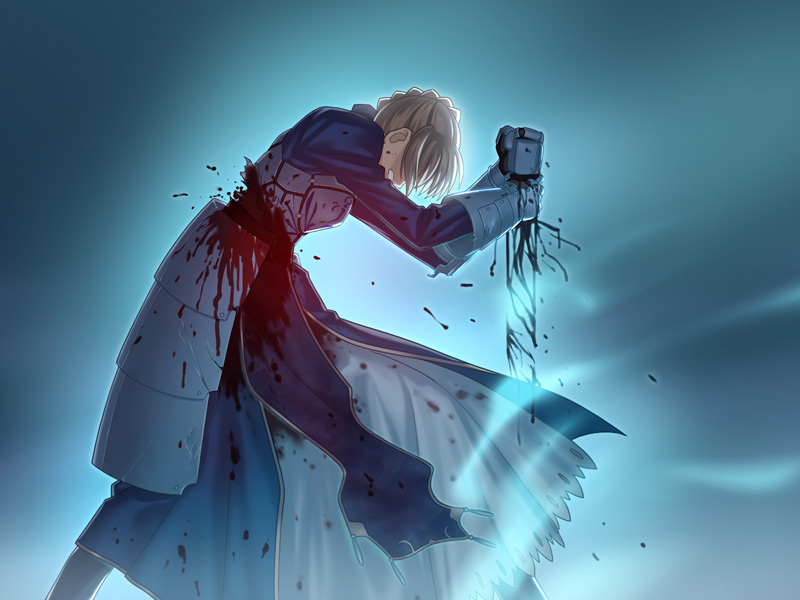 And they are also consumed by an all encompassing guilt over past actions. Shirou is plagued by the fact that he alone survived the great Fuyuki fire, that for some reason he was the only person who was able to walk away. Saber meanwhile is racked with guilt over the fate of her kingdom, and wishes to use the Holy Grail to redo the selection. That if Camelot had had a better king, then everything would have been fine. They are two broken people, incapable of accepting that perhaps that is just how the world worked, or that despite the mistakes they tried their very best. It is only at the very end that Saber and Shirou are able to accept the world that life gave them. They realize that it is okay to just live for yourself at times, and that selflessness doesn't mean forgetting that you're human. Because being human means feeling human things. We are not iron, but creatures of flesh and blood.

Now those are very interesting ideas, but sadly the Fate route does little to really dig into them. Having to pull double duty in explaining the basics of Fate and tell a story means that this relationship often feels like it is on the backburner. Shirou in the Fate route often comes off as an annoying idiot, blinding rushing into combat without thinking things through (something I believe is intentional when you see his growth over the other routes) It also doesn't help that Saber, despite her great design and cute moments, really doesn't have much of a personality. That of course is intended, a female knight who has tried to rub out the truth that she is a woman, she isn't running around cracking one-liners or indulging in those tried and true anime tropes. But there still isn't much meat there. She doesn't have Rin's spunky zeal, or Sakura's dark secrets. She feels more of a mascot, a stoic cold figure who you can't really understand. Again that is the point, but I would have liked a few more moments of tenderness. I have no doubt that should Nasu return and re-write the Fate route as he's been hinting at for years, that these ideas would get more light. But for what we have now, they feel undercooked and underutilized, which is a shame.

Fate/Stay Night's Shirou Emiya and Saber are a fine couple, but remain the weak link in a trifecta that has a surprising amount of depth and nuance. Much of that I do believe is intentional. This is the starter romance, the one that places our lead character on the path to manhood. It is supposed to be a strange, head-scratching and sometimes mind boggling pairing, but it is also one that has stood the test of time. While people will debate which relationship is the best of the three (it's Rin for me), the love of Saber and Shirou is something that has lasted a very long time, and man if the final bonus scene at the end of the visual novel isn't wholesome as fuck.