It has not been a good year for Ecchi in 2019. The shows have been sparse and those we do have have been decent at best, horrible at worst, or in the case of Why the Hell are you Here Teacher?: censored to hell and back.
That's a shame really, because 2018 was all around a banner year for the sub genre, with How not to Summon a Demon Lord becoming a runaway hit, and High School DxD Hero proving to everyone why it's still the king. While 2019 is not over yet, and there are some interesting shows coming up (Please don't suck Isekai MILF!). It has just been a really weak year.
The show we are looking at today is one of those weaker shows, so join me as I take a look at Nobunaga-sensi no Osananzuma, or, Nobunaga teacher's young bride.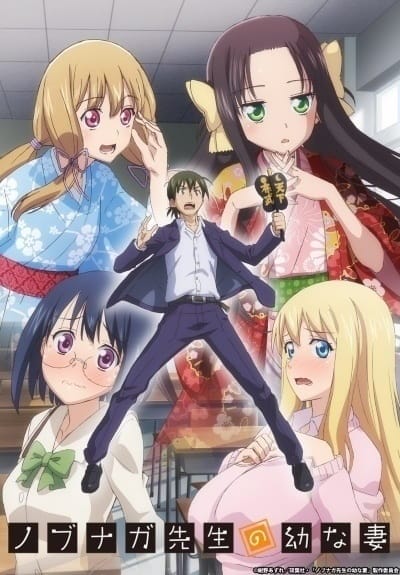 Nobunaga Sensei is a very strange show. With each episode around 6 to 7 minutes, it always feels like a show that is just getting started before it suddenly ends, which is a shame because the premise is actually quite interesting.
Our lead, a decedent of the great Oda Nobunaga is a teacher at a local high school and everything is peaceful until, when his hand touches an ancient object, he finds himself in the presence of a young girl named Saito Kicho who claims that she is his bride to be. What follows next are short mini episodes of ecchi antics where more and more girls connected to Nobunaga's life are introduced to cause comedic chaos.
Now it's hard to talk about a show like this simply because it's so short. This is a show that at the very least should have been 12 to 15 mins, or a full 24. There is enough comedy among the girls, enough chemistry among the characters that the series could have gone on for a bit longer, but I guess they didn't bother.Which is a shame, because unlike the other show, this one was actually uncensored and brings a respectable amount of "the goods". Again this has been a horrible year for ecchi, so beggars can't be choosers and thankfully there is quite a bit done in the short run time.
And that's about all I have to say about  Nobunaga-sensi no Osananzuma. I was never not entertained by the show, and I chuckled a more than a few times at some of the comedy. It's nothing special at all, but hey…at least it's fully uncensored.